The traditional mindset of creating social impact depends on the linear method which begins with social needs assessment, then design the development project, then goes to the society and implement it.
Thus, the social needs assessment tools are designed for products and services that do not exist in society. social needs assessment questions can be:
If we offer a product with the features and advantages of X and Y, would you think it is useful for you? Yes, Maybe, No
What key advantages do you prefer to see in the product/service?
What key problems and challenges did you face in case Y?
But everything may change. The product may don't fit the beneficiary's needs and wants in the real experience.
The lean impact strategy depends on the go directly to the beneficiary with minimum features and advantages, then implementing it directly to the narrow circle of the organization (connections, former beneficiaries, early-bird beneficiaries), then adding the advantages that only matters to the beneficiaries and removing the advantages that do not matter to the beneficiaries.
So, in general, the lean concept is to focus only on what matters, and ignore what doesn't matter. The same concept applied to data.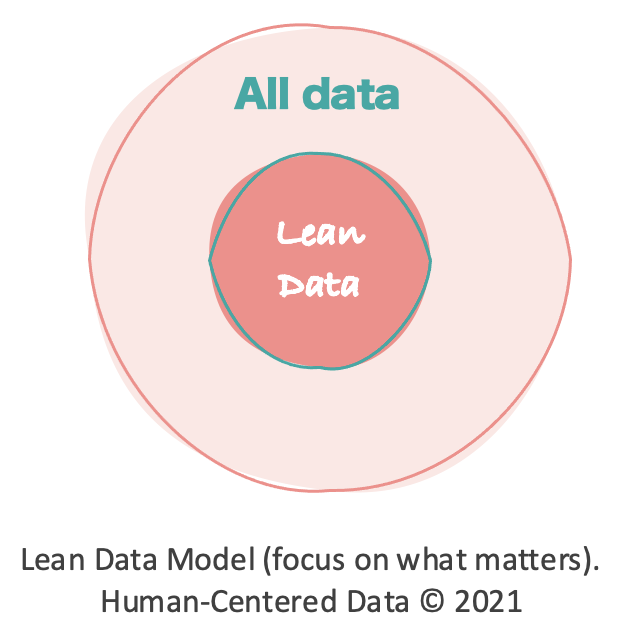 Thus, the impact design questions for lean impact strategy will be like how did you find the product after your experience, in addition, to observing the beneficiary behavior and record notes.
We summarize in the following table the difference between traditional impact strategy and Impact Lean Strategy, and how research tools differ:

This article is authored by Human Centered Data LLC
All rights reserved © 2021
Engage with us:
Need consulting and support to be data-driven? Request a free one-hour consulting session by submitting the form.
Found this article is useful, please share it on social media.
Have an opinion, your feedback is much appreciated! Comment here or contact us.
Want to join us as a consultant, a trainee, or a volunteer? Submit the form.
Request the virtual in-house Human-Centered Data Program and get the knowledge and tools for the future of data. Request the brochure by submitting the form.
References and copyrights:
How to cite this article to your research: Human Centered-Data Co. (2021). Impact Lean Strategy. Retrieved from www.HumanCentered-Data.com.
Want to reprint this article or translate it to your language? It is our pleasure to help via: [email protected].