Many small and medium business leaders look at the growth of those giants such as Amazon and worry that there's no place for them to prosper. In fact, there's a large, wide-open playing field for incumbent firms to reposition. The key to your company's survival in the post-pandemic period is to use the data you have readily available to identify your profit peaks and profit drains and strategically align your organization around your profit core to build dominance in your target market segments.
One of the midsize business leaders who exceeded the pandemic is Edison Furniture, the company surveyed its large customers and found that most were price buyers. As a midsize retailer it was stuck in a price war that seemed hopeless. As the pandemic drove customers away from shopping at stores led profits plunged.
In response, Edison's management decided to try analyzing its profitability in a new way suggested by one of its directors: They created a database of their sales transactions, and rather than allocating costs on a blanket basis, they assigned their actual costs to each transaction. What they saw was amazing.
When Edison's managers saw this profit segmentation, they realized that:
About 20% of their customers accounted for half of their revenues but produced more than 130% of their profits.
About 30% of their customers accounted for a third of their revenues but drained more than 50%of their profits
The remaining 50% of their customers accounted for about 20% of their revenues but produced less than 10% of their profits
Edison's successful story highlights the three steps that small and medium company leaders need to take for success in post-pandemic markets:
Step 1: Data-driven direction. Use your historical sales data to choose your high-profit customers
Step 2: Create better value for those high-profits customers. Instead of growing your customers, keep current, and try your best to serve them better, such as new products and services, and improve the quality and advantages of current solutions.
Step 3: Create new metrics. Instead of focusing on growing metrics such as the number of customers, focus on profits indicators, innovation metrics, and so on. Think of doing a better business, not a bigger one.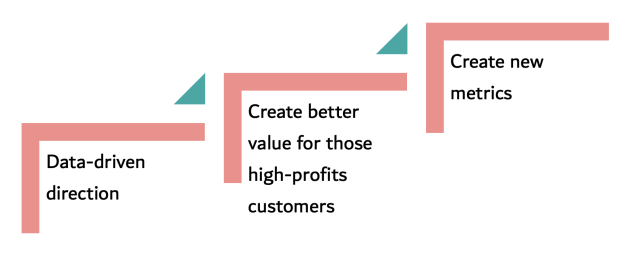 Now every company has big data in its history and daily operations, even small companies. Yes! All you need is to discover these data in your business and transfer it to a competitive advantage. These transfer does not require a system and skills, read your next article to discover what else you need to maximize the benefits of your valuable data.
Edited by Mazeat Corini, Created by Maen Altengi.
Engage with us:
Need consulting and support to be data-driven? Request a free one-hour consulting session by submitting the form.
Found this article useful, please share it on social media.
Have an opinion, your feedback is much appreciated! Comment here or contact us.
Want to join us as a consultant, a trainee, or a volunteer? Submit the form.
Request the virtual in-house Human-Centered Data Program and get the knowledge and tools for the future of data. Request the brochure by submitting the form.
References and copyrights:
How to cite this article to your research: Human Centered-Data LLC. (2022). Are you a small or a medium company? Here are three steps to use in competing with big companies. Retrieved from www.HumanCentered-Data.com.
Want to reprint this article or translate it into your language? It is our pleasure to help via: [email protected].