Focus on the right question first:
Before you get busy exploring the answers to your research problem, focus first on exploring the right research questions!
Einstein says:
"If I get an hour to solve a problem, I'll spend the first 55 minutes figuring out the right question, then I can find the answer in just under 5 minutes"
Inspiring research questions:
Sometimes, figuring out research questions don't require critical thinking, it requires out of the box thinking, here are examples of inspiring research questions:
Example 1:

replacing players in sport is very common, why not do this with employees?

Example 2:

Why can we test the car that we will buy, while we cannot test the house that we will buy?

Example 3:

What if we do not have banks? What was the alternative?

Example 4:

Why are rules don't have an expiration date?

Example 5:

Why are you lost in hospital corridors?While in the malls there are arrows that organize your march!

Example 6:

Why does your car remain parked 21 hours a day?

Example 7:

What if there was no coffee? Would you be looking for a replacement?

Example 8:

Why not testing samples of food instead of reading the menu in restaurants?

Example 9:

what if there is no office? How would be work? And where?
These questions help you think out of the box and innovate human-centered solutions. Here are three tips to help you think with creative questions:
Cross-sectional industries: Look at similar cases in different industries, and compare, as in examples 1, 2, and 5.
The what-if does not exist: assume that the case you are researching does not exist, what would life look like? As in examples 3, 7, and 9
Ask a wider range of people: don't ask only the experts to help you investigate the research questions, ask the beginners, the non-familiars, ask your son, your grandmother about the case, they may give you fun ideas, but let you think out of the box.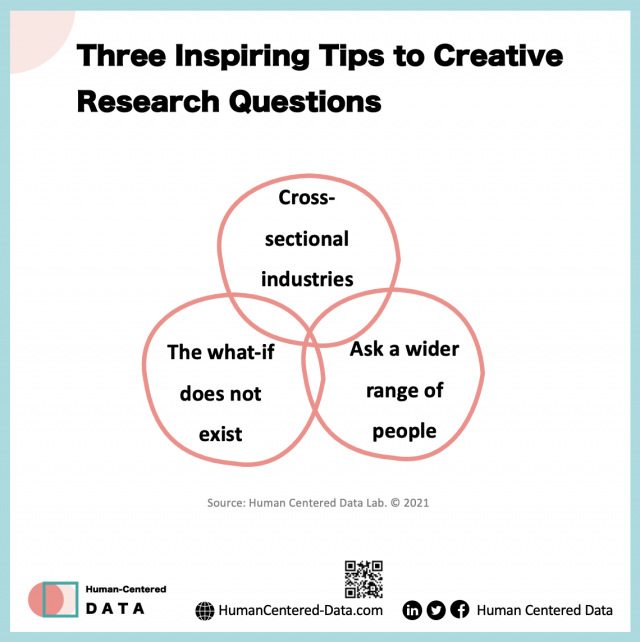 This article is authored by Human Centered Data LLC
All rights reserved © 2021
Engage with us:
Need consulting and support to be data-driven? Request a free one-hour consulting session by submitting the form.
Found this article is useful, please share it on social media.
Have an opinion, your feedback is much appreciated! Comment here or contact us.
Want to join us as a consultant, a trainee, or a volunteer? Submit the form.
Request the virtual in-house Human-Centered Data Program and get the knowledge and tools for the future of data. Request the brochure by submitting the form.
References and copyrights:
How to cite this article to your research: Human Centered-Data Co. (2021). Three Inspiring Tips to Creative Research Questions. Retrieved from www.HumanCentered-Data.com.
Want to reprint this article or translate it to your language? It is our pleasure to help via: [email protected]