Data-driven is a mindset and not a system, it is how individuals think and make a decision. Data-driven organizational culture depends basically on having data-driven individuals, and many researches confirm that data is a mindset and not a technological issue.
So, here is a checklist of nine behaviors that data-driven people have:
Data collection related behaviors:
[   ] I read a new book monthly
[   ] I read news and analysis weekly
[   ] When I have a critical decision, I ask at least three experts to get advice
[   ] When I have a critical decision, I read a lot about topics related to that decision.
Data processing related behaviors:
[   ] I use digital software to arrange my life (tasks managers, budget tracker, etc.)
[   ] I relax and make mindful exercise at least once a day
[   ] I am able to understand charts and indicators
Data use related behaviors:
[   ] I don't trust the insights and opinions that are NOT supported by data
[   ] I balance using data and my intuition when I make a decision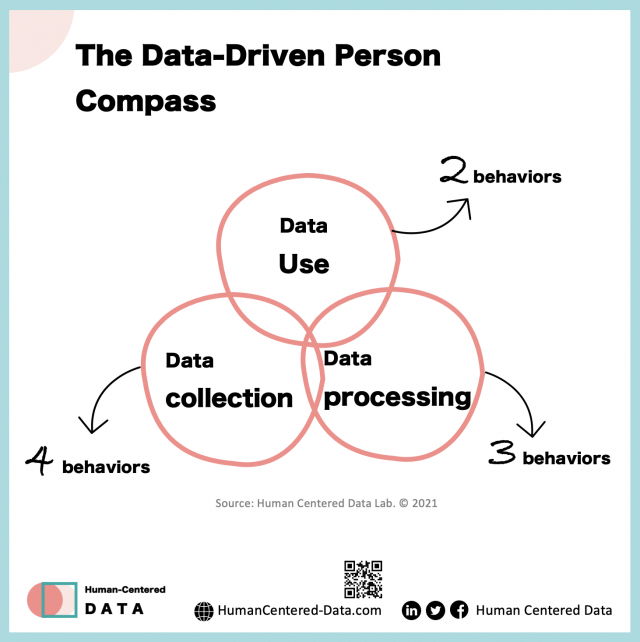 This article is authored by Human Centered Data LLC
All rights reserved © 2021
Engage with us:
Need consulting and support to be data-driven? Request a free one-hour consulting session by submitting the form.
Found this article is useful, please share it on social media.
Have an opinion, your feedback is much appreciated! Comment here or contact us.
Want to join us as a consultant, a trainee, or a volunteer? Submit the form.
Request the virtual in-house Human-Centered Data Program and get the knowledge and tools for the future of data. Request the brochure by submitting the form.
References and copyrights:
How to cite this article to your research: Human Centered-Data Co. (2021). If You Answered Yes To These 9 Behaviors, You Are A Data-Driven Person. Retrieved from www.HumanCentered-Data.com.
Want to reprint this article or translate it to your language? It is our pleasure to help via: [email protected].