Interviewing is one of the key tools in data collection, whatever you are implementing an in-depth interview or a quick one, think of the people you are interviewing as human and not research objects and numbers. To do a more human-centered interview, here are seven tips to consider when humanizing your data:
Interview design:
1- Communicate face-to-face:
In-person communication is best, as it allows us to see the reaction, body language, and hear their tone of voice, their excitement, and their frustration.
2- Include open-ended questions:
Ask open-ended questions and do far more listening than talking. You may listen to valuable ideas outside your expectations.
3- Choose neutral spaces:
Choosing the interviewee's home is the best place to do the interview, if it is not possible, don't choose your office for example, and feel the people like you are doing a job interview. You may choose a neutral place, for example, a café or a garden, or any public space that makes the interviewee feels relax and at home.
Interview implementing:
4- Treat them as friends:
"We are here to be friends", if the person starts talking about another topic, don't interrupt the person and don't say "let's come back to our topic, your time is valuable". Rather, respond to this new topic, and try to move smoothly to the key topic you are interviewing for.
5- Empathize only and keep neutral:
The interviewee will share opinions and may complain about any event that happened before. Be neutral and respond with empathy. Empathy here means you feel what the other person feels, try to say something like: "So, you are …", "I am sad you …". Try to summarize what the other person feels in your words.
5- Accept any offer:
Whether the other person offers you a coffee, snacks, or even having a look at the children's photos, you should always accept. Feel the other person you are a friendly guest and not a researcher.
7- Be generic in appearance and tools:
Your interviewee may be a formal person or a casual one. So, be neutral in clothing, and in any tools you hold. Try not to wear anything that refers to a group or ethnicity.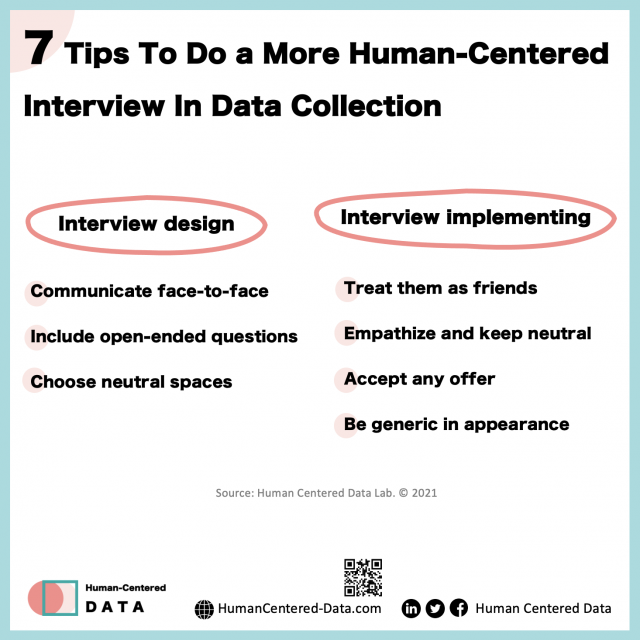 This article is authored by Human-Centered Data LLC
All rights reserved © 2021
Engage with us:
Need consulting and support to be data-driven? Request a free one-hour consulting session by submitting the form.
Found this article is useful, please share it on social media.
Have an opinion, your feedback is much appreciated! Comment here or contact us.
Want to join us as a consultant, a trainee, or a volunteer? Submit the form.
Request the virtual in-house Human-Centered Data Program and get the knowledge and tools for the future of data. Request the brochure by submitting the form.
References and copyrights:
How to cite this article to your research: Human Centered-Data Co. (2021). 7 Tips to Do a More Human-Centered Interview in Data Collection. Retrieved from www.HumanCentered-Data.com.
Want to reprint this article or translate it to your language? It is our pleasure to help via: [email protected]